SLOT Magazine No. 10 is out today; on page 30 we promised more comment and pictures of the Round Britain Whiz Thingie cars that we couldn't squeeze into the magazine. Click on each image to see it full-sized and scroll down for a feast of Thingieness.
Alex Bond's Galaxian original design. "Great looks, handled really well, second in this heat with it".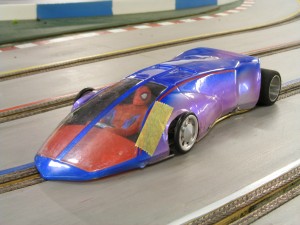 John Dilworth's DMI Tarantula DMX. "Crazily wonderful looks. Quite a nice drive, was I second in that stint"?
Ron Kyomura's Dynamic Bandit. "With little engine braking it was suited to the Rockingham Raceway. It handled well and was fun to drive, getting me into a dice with Nick Clements (Nick second, me third in that heat)".
SLOT magazine columnist Tony Davey's Shinoda. "The tail wags and it shot off a few times. The best body design"? Note the front axle mount reminiscent of a 1960s BZ frame.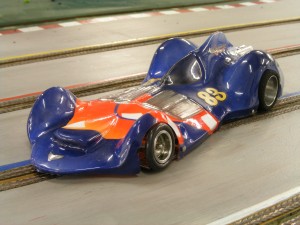 Murray Tonkin's Pactra Jupiter. "Very effective but I just don't like the looks".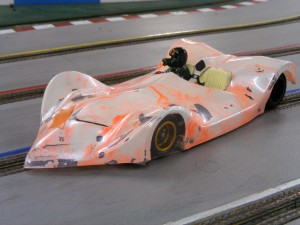 Andy Brown-Searle's battered alien-driven Beerstella, based on a Carrera La Bostella. "Another great handler".
The winning Shinoda of Californian Dennis Hill. "Not obviously the quickest but very forgiving to drive".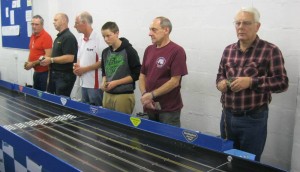 Round Britain Whiz Part the Fourth: Dramatis Personae. Steve Taylor (Rockingham), Dave Lees (Raceway 81 Newcastle), Richard Hills (SLOT Magazine and Luton), Nick Clements (Rockingham), Ian Benzie (Highlands), Mick Thomson (Rockingham). (Steve Kempson photo).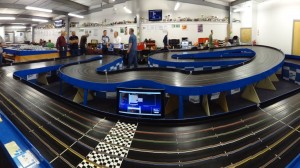 Bill Jenner's panorama of the Rockingham Raceway.