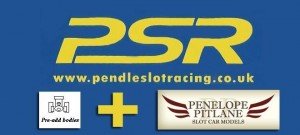 This in from Pendle Slot Racing:
Pre-Add Powered by Penelope Pitlane
"2015 will see the re-introduction of the range of Pre-Add 1:32nd scale resin body kits first released during the early 1990s and mid-2000s by Mac Pinches. Under the new ownership of Pendle Slot Racing, the range of 25 bodies will receive a careful make-over whilst staying true to the original shapes created by Mac. The original masters will be carefully cleaned and detailed where necessary in order to bring them up to 2015 standards expected by today's modellers. The bodies will then be matched up to an appropriate Penelope Pitlane chassis and have mountings moulded in place.
It is intended that 5 or 6 bodies from the range will be re-issued during 2015, starting with a body originally released back in early 2000 which Mac himself then re-mastered but never put back into production".
Penelope-Pitlane
"Pendle Slot Racing have had a very close working relationship with Steve Ward at Penelope Pitlane, ever since Steve first contacted us to discuss his ideas to create a range of 1:32 scale body kits, chassis and detailing parts. 42 body kits later the range is now widely regarded as being the most complete scratch building range.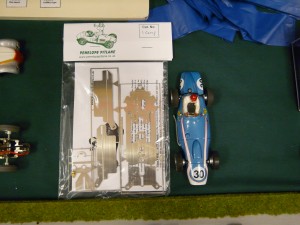 We were therefore delighted to be asked by Steve to take on the range as he felt the time was right to retire. We have retained Steve's services on a part-time basis to help us continue his great work.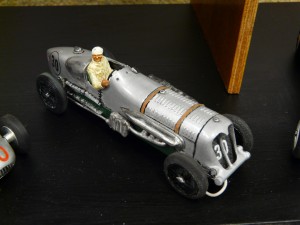 Initially we will re-issue some of the older kits that have been sold out for sometime now. These include the Healey SR, Connaught and one of my personal favourites the Birkin Bentley.
There are also plans at to introduce several new chassis including an anglewinder and a slimline chassis to accept a short shaft slimline motor. We are pleased to say that these plans are at an advanced stage. New bodies will also be added to the range at some point during 2015 to complement those that are to be re-issued.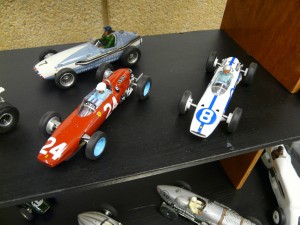 At this stage Pendle Slot Racing would like to put on record our thanks to both Mac Pinches and Steve Ward for their help in making this happen and for having the faith in Pendle Slot Racing to continue their good work".

Click on any image to enlarge it. Thanks to Slot Car Today for the headline image.