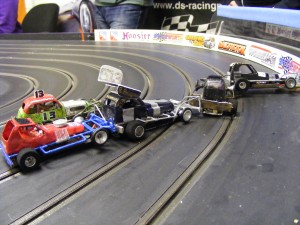 After we went to press with SLOT No. 6 came news that the SlotStox racers at Rockingham were moving to Primo International Arena Northampton. So, if you're reading 'Inside Track' on p. 10 about Luton's oval track opening, it's now with Three Counties that Luton alternate Friday racing.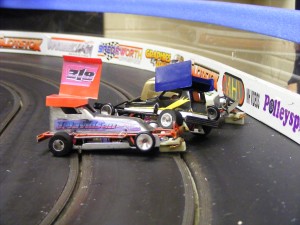 Primo International Arena Northampton is the long-established stock car racing track at Brafield on the Green (NN7 2BA). Check out Three Counties Oval Slot Car Club on Facebook https://www.facebook.com/threecountiesovalslotclub?fref=ts
'190' Andy Hankin of Three Counties Oval Slot Club said that a new Pendle Slot Racing built five-lane track is open in the bar at Primo, and all points and grades accrued will apply. Friday sessions cost £3.50; Next date is 18 April with racing alternate Fridays. Two other tracks will be added to the fixture in due course.
Click on any image to see it full-sized.