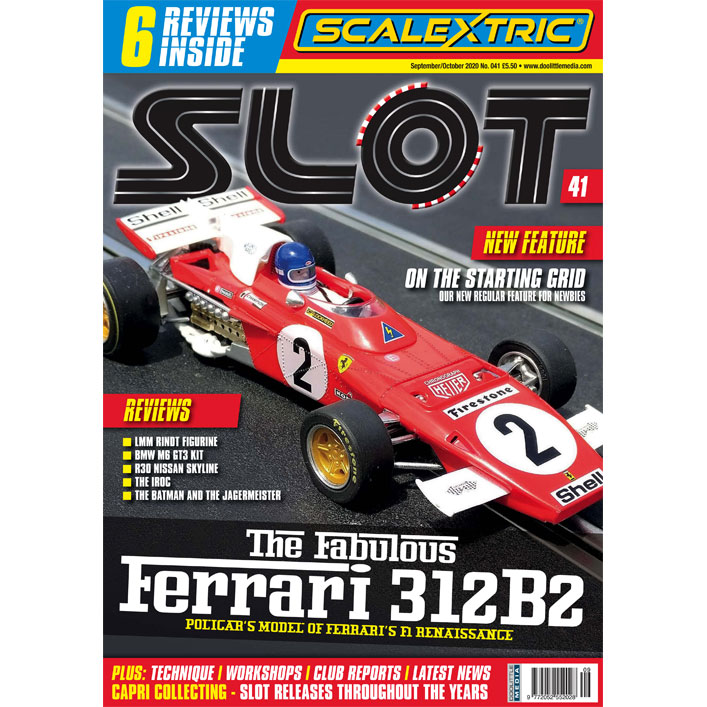 Latest issue of Slot is on sale from our website HERE
Subscribe paper and digital version HERE
In the issue:
8 SHOW US YOURS!
Hopefully, a regular feature on your
own work, send it in!
10 COLLECTING CAPRI'S
The Ford Capri was a popular car
and quite rightly so. However, it took
a while for the slot car companies to
catch on as you will read.
18 EARLY 1970'S CLASSIC F1
FERRARI
A new classic F1 car from Policar
is always a time for celebration.
This time they turn their hand to the
Ferrari 312B2 of Jacky Ickx.
22 MR RINDT RELAXES
Model figures can add so much
realism to a layout or diorama. Here
we have the latest resin masterpiece
from Le Mans Miniatures.
24 GET KITTED OUT WITH THIS NEW
BIMMER
Only in kit form until at least the end
of the year, Sideways bring you the
BMW M6 GT3. Time to get the spray
cans and stickers out.
30 A WONDERFUL TRACK BASED IN
NEW ZEALAND
Fully scenic tracks are a great place
to race your cars on. We hope
Dennis Browns circuit will inspire
others to build their own.
34 GETTING SIDEWAYS IN A
SKYLINE
Its not often we review more than one
car from a manufacturer in each issue.
However, many have been waiting a
while for this R30 Skyline from Sideways
that we just had to spill the beans on it.
40 A PLASTIC KIT CONVERSION
A plastic kit conversion – this time
a 1/24th Scale Capri. See the car
being built up and maybe you too
can do something similar?
46 "HE LIVES ON MY BLOCK, HE
DRIVES AN IROC"
"He lives on my block, he drives
an IROC" sounds familiar? If not
read on an see how Scalextric have
produced a US Legend and what ties
it to a very famous US chart hit.
52 STARTING GRID
Starting Grid is a new regular feature
on how-to's for newbies. In this issue
we look at the black art of soldering.
56 GILDING THE LILY.
Gilding the lily. We see if we can
add anything to the already perfect
Ferrari 250GTO from Fly Car Model.
60 DOES BATMAN DRINK JAGER
BOMBS?
Does Batman drink Jager bombs?
Not sure but we look at two new
and very differing offerings from
Scalextric.