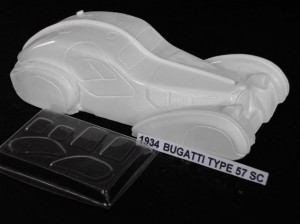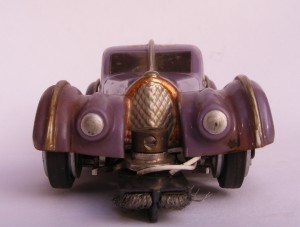 This rather splendid car came Richard's way today. We think it's a Bugatti Type 57 because it's so similar to Charlie Fitzpatrick's 'Classic' white body… but the headlights are different to the Classic and Betta bodies' offering. Back around 1970 G.T. Models (as in Gordon Tapsell, not George Turner) offered a vacform Type 57 so it may be a G.T. body. Tony Condon's pointed out that Nordic made one too. If you know please post a reply.
The engineering's superb. Despite what may even be chrome plating the chassis could be made of brass sheet and section. Clearly shaped for that body alone the pans do not hinge, but the lead-weighted droparm does just that, as you can see. The guide is by Cox. The front wheels on their 1/8″ threaded axle are a work of art; can anyone tell us whose make they are? They look similar to Rannalli's; see the Monza GT in SLOT magazine 003. The motor is a FT26D with blue windings on the armature, a can end ballrace and very meltable endbell, albeit drilled. Gears are Taylormade and still a lovely mesh even after something over 40 years.
Unfortunately we don't know the constructor, just that it was one of 13 cars from a house clearance. If you recognise it we'd love to know more.