Coming up on Sunday 26 January at Millstream in Ringwood, Hants. is this race to celebrate the life of Ronnie Spencer junior who passed on last year. Ronnie was one of the jets at Tottenham Model Raceways and is seen here after winning the Open on 22 November 1970.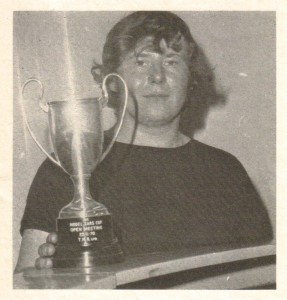 The Millstream race promises great retro racing with a number of the faces from 40 years ago likely to compete, including Bob Hallums and Mickey Graves who placed third and sixth in that final at TMR.
Pictured are cars from retro racer John Secchi and regular SLOT magazine columnist Tony Davey. John's #3 Autocoast is a Jim Epsom build for Hallums that Bob drove in a TMR Open Final in '72. Note the diaplanes to keep the car from flying off; a precursor to today's Wing cars that will race later in the day at Millstream in the first round of the British Wing Car Championship.
Tony's is a Ferrari 612, another Can Am sports car body popular with slot racers at the time. See PDF CLICK HERE for details of the Millstream races. Note that this is a Sunday event, not on Friday 24th as in the SLOT magazine 'Dates For Your Diary'.