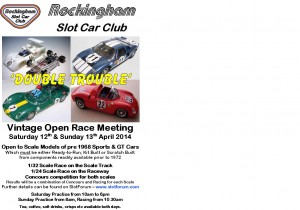 Courtesy of reader reporter Kit Spackman who raced for the first time in 45 years, we can show you some of the superb 1960s sports racing cars at the recent 'Double Trouble' meeting at Rockingham Slot Car Club. Click on any image to enlarge it.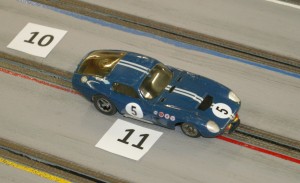 Kit's 1:32 scale Daytona Cobra
'Double' because both 1:32 and 1:24 scale cars are raced; the smaller cars on the twistier grey-coloured track and the big 'uns on the black raceway. Scale appearance is held in high regard with all entrants voting in the concours competitions, with the points awarded added to those gained in the races to find overall champions.
1:32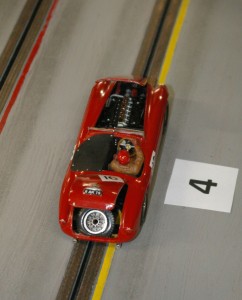 Note the spare wheel and fully-detailed front engine under the bonnet in Dick Gardner's concours winner.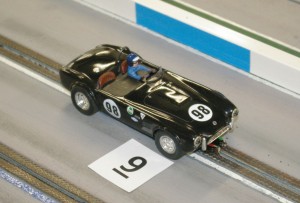 4th in concours, Pete Shepherd's AC Cobra.  Body from a renovated Revell kit in the same series as the Ferrari 250 GTO in 'Finish Line' in the current SLOT magazine 006.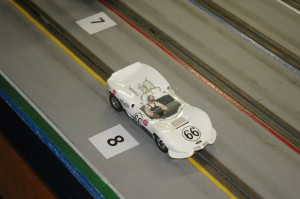 Meeting organiser Mick Kerr's Chaparral that took 3rd in the race.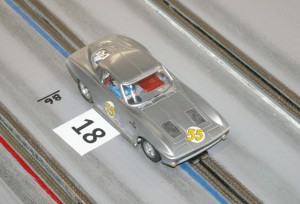 David Farrow's Chevy Corvette.
Ferrari, Lola and Mercedes amongst others ready for the off.
_________________________________________________________________________________________________
1:24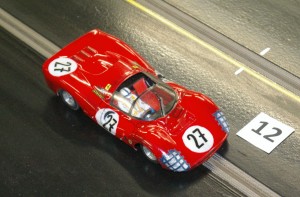 John Secchi was the class of both race fields. Having already won in 1:32 this Ferrari took him to the bigger scale win. Click on the photo to check out the John Surtees driver figure and taped-up headlights.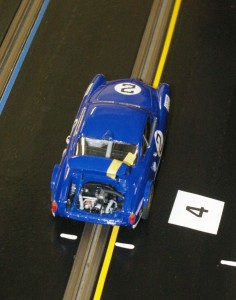 Dick Gardner was a double winner too. Look at the detail at the back of his 1:24 scale concours first placer.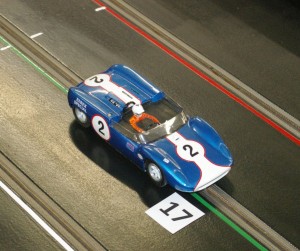 John Moxon's entry.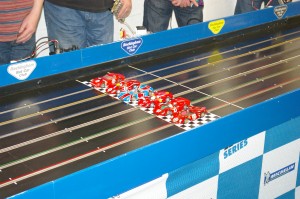 Any colour you like as long as it's red.